What better way to spend your vacation than to enjoy the warm sea breeze as you sip a custom-prepared cocktail on a sunny day in the middle of the Caribbean sea?
This may seem like a dream which is impossible to achieve too many, but you would be surprised to know that anyone can have their day out in the ocean, and all they have to do is charter a luxury crewed yacht!
When choosing what kind of yacht you should charter when on vacation, you should look at all-inclusive crewed yachts because they are the best options if you are looking for a premium experience and they are the ideal way to explore the British Virgin Islands.
At Virgin Charter Yachts, we are happy to help our guests better understand what a crewed yacht is, the different types of luxury crewed yachts, including the benefits of each and some of our best tips!
What Is a Crewed Yacht?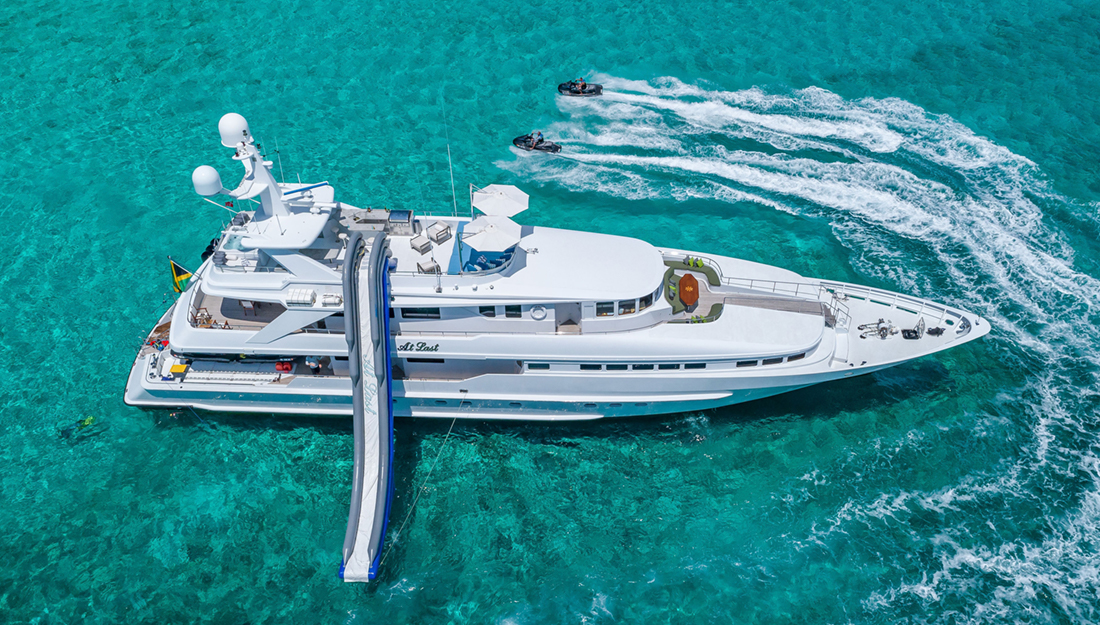 Before taking a look at the benefits and different types of crewed yachts that exist out there, it is vital to first understand what a crewed yacht is.
As the name suggests, crewed charters are those that always have full-time crew on board.  The crew will always include at least a full-time captain and chef and then depending on the size, they can include many additional crew including; stewardess, engineer, first mate etc.   The crew are dedicated to the safe operation of the yacht as well as offering you the highest level of service during your luxury charter.   A crewed yacht is different from a 'bareboat yacht charter' where the guests serve as their own captain, and they captain the yacht themselves, prepare their own meals etc.  It is also different from a 'skippered charter' where a freelance captain is simply added to a bareboat yacht for the duration of your charter.  On a luxury crewed charter, the crew are permanently employed by that one yacht and they will be aboard for the entire charter season. 
Not only do the crew take care of any maintenance which may be needed during the yacht charter, but the crew members also specialize in many other tasks which may be required in the ship to offer you the best yacht experience possible.This is especially useful because the captain and crew have extensive knowledge of the waters they are sailing on, and they have substantial information on wind currents and which waters are the best for a yacht charter, allowing you to enjoy the best experience.  The captain of an all-inclusive charter yacht will also know a lot of 'secret spots' that even guests who frequently visit the BVI may never have seen before!
Different Types of Crewed Yachts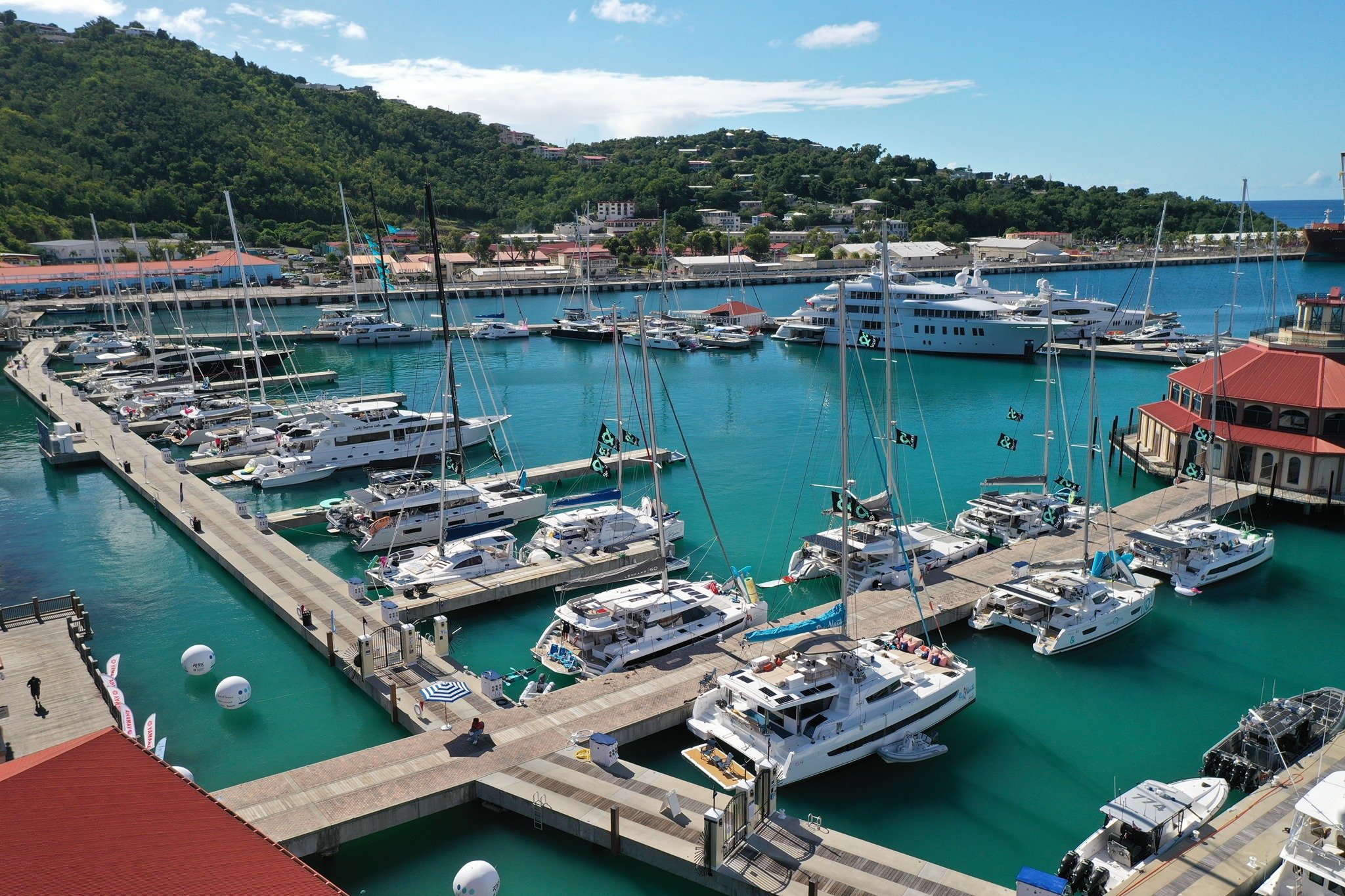 When researching the market to find the crewed yacht suited to your preferences, you will notice that many different types exist. These different types of luxury yachts differ mainly in the size, style, price and location where they charter.
Let us discuss this in a bit more detail, highlighting the varying crewed yacht charters in the market and understanding what situations they are the perfect choice for.
Megayacht
Megayachts, are generally classified as yachts over 60 meters.
These fully crewed private yachts are by far the largest ones on the list and are known to be the definition of a luxury yacht charter experience.
The mega yachts are a great option if you want the ultimate experience of exploring the exotic waters in the most luxurious way possible due to the many crew services attached to this private experience.
If you are a fan of 'Below Deck',  the yachts featured on the show: Sirocco, St. David, Ionian Princess etc. would all be considered superyachts. 
Crewed mega yachts consist of many professional crew members, dedicated to pampering you and providing you with the most premium experience.  Sometimes on the larger yachts, the number of crew members can actually exceed the number of guests!
You can expect a wide variety of exotic cuisines and cocktails aboard a mega yacht, and frequently the chefs come from some of the top-rated Michelle-starred restaurants or luxury hotel chains.  The chef will prepare custom food and beverage options to provide you with tailor-made meals sure to please even the most discerning of 'foodies!'
A charter aboard a mega yacht also includes all the latest in water toys, so you can enjoy a wide range of water sports and activities in the crystal clear waters of the Caribbean.  Superyachts will be equipped with a luxury tender (or 2)  to take you from the yacht to shore and some even come equipped with a helicopter to make arrival and departure even easier. They also have a full assortment of additional water toys including: jet skis, water slides, inflatable trampolines, underwater sea scooters, paddleboards, kayaks, scuba equipment, snorkel gear - and much more!
Regardless of the size of the luxury yacht, they typically can accommodate a maximum of 12 guests.  This is due to the flagging/safety laws for yachts.  So regardless of if the yacht is 70' or 250', you will typically only be able to have a maximum of 12 guests aboard.   The most common number of guests for a mega yacht is 8-10.
Superyacht
Although there is no formal rule, a superyacht is typically classified as a yacht over 24M.  Luxury charters aboard yachts and superyachts are very common in the BVI and Caribbean.
On a superyacht luxury charter, you will have a very similar experience to that on a megayacht, just in a smaller package.  Since a superyacht is typically smaller than a megayacht, you will have fewer crew onboard, normally anywhere from 4-8 crew members.  
For a week of charter aboard a superyacht, your charter will still be tailored around all your food and beverage preferences and you will have a top-notch chef who customizes all your meals and individual plates.  The captain will plan a personalized itinerary that takes into account your location and activity preferences as well. 
Superyachts will also have a wide variety of the most popular water toys; sea scooters, E-foil boards, paddle boards, scuba and snorkeling equipment etc.
Luxury Catamaran Charter
Luxury all-inclusive charters aboard catamarans, are the most popular crewed charter choice in the BVI and USVI.
Crewed catamaran charters are preferred by many guests in the Caribbean, and they are often regarded as the perfect choice for families traveling together on holiday or for couples who want to explore the BVI as a group of friends.
There are two types of luxury catamaran charters:
Crewed sailing catamaran charters
Crewed power catamaran charters
The sailing and power catamarans have similar layouts and amenities between them.  The biggest difference is their speed and their ability to get from point A to point B.  A sailing catamaran has engines, but they are smaller, and used to supplement the propulsion of the yacht that is achieved from the wind in the sails.   A sailing catamaran can travel just on engine power, and many do if the guests would like to get somewhere in a shorter time frame.  During a sailing vacation, guests will typically travel about 5-8 knots aboard the catamaran during charter.  Many guests prefer luxury sailing catamaran charters if they want to relax and enjoy the journey. 
On a fully-crewed power catamaran, there are no sails, all the power comes from the engines.  The power catamarans typically travel at 10-20 knots, so they are much quicker to get to each of the various islands in the BVI.   Since they use more fuel than a sailing catamaran, prices of power catamaran (as well as superyacht and mega yacht charters) are higher to account for the increase fuel consumption/cost.
A luxury, all-inclusive catamaran charter offers many of the same benefits as a charter aboard a superyacht including; full-time crew, fantastic chef who prepares all your gourmet meals, a wide assortment of water toys etc.   In addition, guests find there are many other benefits specific to a luxury catamarn charter, making them a great choice when looking for an all-inclusive yacht charter:
Catamarans have a wider beam (width) than most superyachts - a superyacht is normally 17-22' wide and a catamaran is typically 25-35' wide. This wider platform provides extra stability and balance, so the catamarans tend to roll less during the charter
Catamaran design usually incorporates the cabins into the hulls, normally with a cabin forward and aft in each hull. This design separates the sleeping quarters and keeps them as far apart from each bedroom as possible, which offers guests great privacy
Catamarns are designed with very shallow drafts, so they are able to navigate in shallow waters and explore areas that a superyacht or megayacht might be too deep to safety get into
Due to their very wide beams, most of the catamarans offer fantastic sun decks on the bow, aft and flybridge, which are very popular with guests because they offer guests a great view and comfortable seating.
The luxury all-inclusive catamaran charters also offer guests a very good value. Since they consume less fuel, most of the catamarans price as 'all-inclusive' where the price for the charter includes the yacht, crew, all food and beverages on board, alcohol, fuel and permits.  The all-inclusive pricing makes it very easy for multiple couples to travel together and divide the cost evenly, knowing exactly what the total charter amount is before they set sail.   An all-inclusive charter aboard a luxury catamaran for 8 guests typically ranges from $30,000/wk all-inclusive to $125,000/wk all-inclusive
Benefits of a Crewed Yacht Charter
Avoid all Crowds
One of the main selling points of selecting a luxury crewed yacht charter is they provide a completely private experience, free from all congested crowds and the hustle and bustle of people everywhere.
On a typical cruise ship, you can find yourself amongst a packed crowd,  navigating high-traffic areas and constantly waiting in line for food, to go to shore, to return from shore etc.
However, when with a private, luxury all-inclusive charter, you can avoid all of the crowds even when visiting popular areas in the BVI, because the crew is very knowledgeable of the area, so they know what route to take and where to go to avoid other yachts and any crowds of guests.
Insider Knowledge
Your crewed yacht charter comes with many different crew members. Most of them have excellent insider knowledge as they have chartered in the BVI for years!  They can take you to places that are not known as tourist spots but are just as beautiful, allowing you to experience the seas from a different perspective.
A Personalized Experience
Above everything, the most significant advantage of a crewed yacht charter is that it provides you with a completely personalized experience, from the beverages to the food menu.  Does one person in your group hate mushrooms?  Someone else is gluten-free?  Do you want to get up early and go for a hike while your kids want to sleep in and relax?  A private, luxury crewed yacht charter can accommodate all of the different desires and preferences for each member of your charter party so that everyone experiences a once-in-a-lifetime experience!
All crew members cater to your individual needs, allowing you to customize all aspects of the experience to ensure they are exactly to your liking.
Tips To Get the Best Crewed Yacht Charter Experience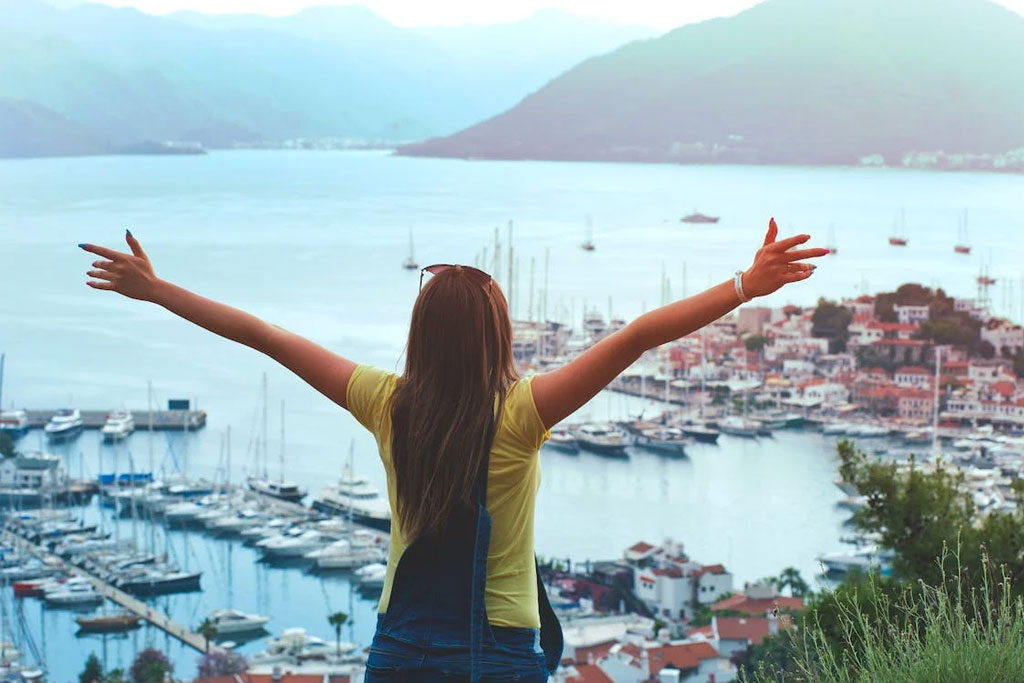 Talk to the Captain in the Beginning
Navigating the seas in the local area is the primary job of the captain, which they do regularly when taking guests on their luxury sailing vacations. This is why they are exceptionally knowledgeable of the local waters and can help you further improve your itinerary.  You will be put in touch with the captain anywhere from 2-4 weeks before the start of your charter, and you can speak to them about any places you would definitely like to see as well as any suggestions you have on the itinerary.
Although you may have looked online on where to go, the captains often have extensive local knowledge, so they will frequently have different additional suggestions on where to visit during your charter, and they can suggest some tremendous undiscovered gems and unique hotspots.
Your charter itinerary is not set in stone, so be sure to chat with the captain during your charter if there is a place you love and would like to stay longer, or if there is a place that is not your favorite and you would prefer to move on to another island.
Furthermore, not only is the captain in charge of the shape, but they also have to lead the crew. They take great pride in their job, and a great way to further optimize and improve your crewed yacht experience is to tell them beforehand of your preferences so they can communicate that to the crew before your arrival.
Be Respectful Of the Yacht Crew
All of the crew members aboard your all-inclusive yacht charters are incredibly dedicated and highly efficient at their jobs. It is essential to remember that they are still humans, and it is important to respect them and treat them with courtesy!
Please remember that a simple 'please' or 'thank you' goes a long way, and a compliment can be a huge morale boost to a crew member that has had a busy charter season.
It is vital to understand that all crew members have to juggle many different tasks and responsibilities aboard your luxury yacht charter.   Depending on the size of the yacht, the same person that is responsible for preparing all your meals might also be the person who freshens up your cabins each day. 
Have a Flexible Itinerary
When discussing your suggested Itinerary for your all-inclusive charter, one vital thing to keep in mind is that there are many factors, such as sudden weather changes, that can make the seas unpredictable and could affect specific destinations in your itinerary.
Due to this, it is highly recommended to follow the captain if they advise against visiting an area mentioned in your itinerary because they are more familiar with the area and weather patterns and the possible risks/discomfort of continuing to that area.
The captain will always try their hardest to stay on course and show you all the places you request, but from time to time they will have to make changes to the itinerary after performing an in-depth weather inspection and risk assessment.
Do Not Put the Crew and Captain in Difficult situations
The captain and the crew know what they are doing, but for them to perform at maximum efficiency and make the trip as enjoyable for you as possible, it is best for them to be under as little additional stress as possible.
Keeping this information in mind, one of the most stressful situations a yacht captain and crew can encounter is when they disagree with you regarding safety.  Due to this, if a captain recommends against visiting a location due to weather or safety, do not question this decision, because the captain has many years of experience and they are making a difficult judgment call for the safety of their guests. 
Also, please do not bring any recreational drugs on board.  Even though certain states have legalized various substances, when you are at sea in international waters, those state laws do not apply.  Most countries have very strict drug laws, and if drugs are found on board the captain can lose their license and the boat can be seized.  Captains wants their guests to have a great time, but if they find drugs on board, they are legally obligated to report that and end the charter, so as not to risk losing their license (which ends their career) and/or having their yacht seized. 
Bon Voyage!
Hopefully this guide has inspired you to choose a luxury crewed yacht charter in BVI for your next vacation!  In discussing the benefits of a crewed yacht charter and the various types you can choose from, you should have a better understanding of which option would be the best fit for your group.  If you have additional questions on which yacht would be the best fit, please reach out to our crewed yacht specialist, Alexia, (alucas@virgincharteryachts.com) and she can help you select the ideal yacht for your next all-inclusive yacht charter! 
Did You Know?
The BVI are only accessible by boat. Check out our charter yachts that can get you there. View Our Fleet